No matter how cool your wedding invitations are, how swank your venue is, and how awesome your reception party is gonna be, there's one detail that could sink the whole ship: poor transportation planning. If you don't coordinate how to get to and from hotels and chapels and dance halls, then no one's going anywhere. So don't wait until wedding week to put the plan together.
Who Travels & Where
No one will forget the rings (we hope), but what if grandma has no way to get from the airport to the venue? That could ruin the day in a hurry. So remember: Wedding transportation plans aren't just about getting around on wedding day. "Wedding day-of transport should be planned for the couple as well as the bridal party (if applicable) for various stages of the day," says Lilac Zhang, wedding stylist and event planner of Upside Down Events.
For example, Zhang says someone needs to transport the groom and the bride separately to the same location at staggered times (the tradition has it that the groom shouldn't see the bride in her dress until she comes down the aisle). Secondly, the groom and groomsmen will require transport to the wedding ceremony location. Depending on how the day is planned, a second set of hired cars/vans/buses may be necessary to transport the bride and bridesmaids from where they are getting ready before going to the wedding ceremony location.
Transportation isn't mandatory; you could tell everyone to fend for themselves. But it is advised if your wedding is in an area that's difficult to navigate, especially if there is a lack of cell service for GPS or a location that's off the beaten path. "Guests should expect to be responsible for any travel to and from the airport or any accommodations that they have booked for the weekend, but it's a good idea to help in some way when it comes to the ceremony and reception," said Kylie Carlson of The Wedding Academy. This is especially important for the wedding party, as you don't want anyone late when it comes to the reception timeline.
"For a wedding, there are two types of transportation we plan with our couples: personal transportation and guest transportation," says Danielle Rothweiler of Rothweiler Event Design. Personal transportation deals with the couple, wedding party and immediate family members. Guest transportation includes those typically staying at the hotel block.
If your wedding is not held at a central location or venue, you should arrange a limo or a number of vehicles to ferry the entire bridal party.
For weddings that take place outside of a metropolitan area, couples may consider hiring a coach to transport wedding guests to their wedding venue. "This will allow wedding guests to enjoy the day of festivities responsibly," said Zhang. You could even have two buses leaving at different times in the evening; one earlier and one for the guests who want to boogie on the dance floor with you into the wee hours.
When to Plan the Transportation
Timing is everything, and that is especially true when trying to make everything fall in place on a wedding day. With regard to timing, a wedding planner will ultimately be the best person to orchestrate this and liaise with all the wedding vendors. "If you do not intend to hire a wedding planner, the next best person to consult about day-of timing and locations is the wedding photographer," said Zhang.
Tip: Most wedding transport providers will factor in parking into their fees. It is (very) uncommon for the couple to have to pay for this on the day.
The booking window for transportation depends on how picky the couple is regarding the type of vehicle." If they want a white vintage Rolls Royce, there may only be one in the area so you should book it as early as possible," said Shannon Tarrant, founder of WeddingVenueMap.com. If the type of transportation doesn't matter, then it would be ideal to have it finalized three to four months in advance. Consider visiting the local car shows and hiring a unique vintage vehicle for your grand exit. "Oftentimes, the pricing may be more affordable and you'll have a wider selection of vehicles to choose between," said Tarrant.
Timing can also help to determine what the costs will be, and who covers them. "This should be booked at the same time as the hotel block just in case the hotel provides anything complimentary, and so the transportation company will know how far they have to travel to give the best estimate," says Rothweiler. (Some hotels have free shuttles to and from airports.) "Depending on the wedding date/time of year, I book this anywhere from 9-12 months in advance of the wedding date," said Rothweiler. Keep in mind that if you get married during wedding or prom season, you will need the extra time to book.
Transportation Costs
Most couples prefer to have a private drive to the reception venue (after the ceremony) and/or as they make their grand exit at the end of the night. For this, it's a popular option to book a vintage car, limo, or even a horse and carriage. "The rates will vary, but the average cost is anywhere from $100-$500 USD an hour," says Carlson. "You'll also want to consider whether or not you'll be driving or hiring a driver to chauffeur you." (Remember to tip your driver 20%.)
If possible, book early on to avoid premium rates, and make sure you're clear on each destination so as to not have any additional charges on your final bill. "If you're planning to take multiple vehicles, time the arrival and departure as closely as you can, and add extra time to the schedule for travel," said Carlson. You never know if there might be a car mishap or traffic. Generally, 5-6 months out from the wedding day is the perfect amount of time to research and start booking.
Remember that you might be able to get a family member or friend to be a designated drive on wedding day. That could save a lot of cash. If relying on non-professional drivers, you should give them maps of the area—or at least make sure they know the addresses of the destinations so they can map them on their mobile phones. Ideally, you'd know exactly how long a trip takes in advance–because you mapped it out yourself using Google or Apple maps or Waze.
Buses & Trolleys
Hiring a bus, trolley, or other car to fit the bulk of your wedding party or guests should be left up to you. Think of this as another cost and build it into your budget, especially if you're holding a destination wedding where many of your loved ones will be in an unfamiliar area. The average price to rent a bus or trolley will be between $1200 and $1400 for a 4-6 hour rental but it may vary depending on location and type of vehicle. Remember that some hotels offer free shuttle service to and from the airport.
Sports Cars
If you're having a dry wedding, you can rent a getaway car with serious personality. "From luxury car rentals like a two-seater Ferrari to a cute Volkswagon bug that one of my couples requested, the sky's the limit!" says Francisco. The prices range from about $80 per day to over $1,200, depending on type of sports car, features, age of car, and even city and day it's being rented.
Boats & Yachts
But wedding transportation isn't limited to buses or cars. "At destination wedding properties like the Belmond Maroma and the Renaissance Aruba, guests and couples cruise around on romantic boat rides. Embrace your wedding location with a form of transportation that best reflects the local environment," says Francisco. Most yachts can be rented by the hour, and those prices range from a little over $150 per hour for a fun, sporty 40′ cruiser that can accommodate up to 12 guests – perfect for a smaller, intimate wedding.
For an at-home wedding, you can leave the costs up to your family and friends, as most will live close by or be able to carpool with one another.
Parking Fees for Destination Weddings
If you're hosting your wedding at a venue that requires a parking charge, such as a hotel with a valet charge or a downtown location with a paid lot, make sure to budget for the cost of parking. "Imagine being a wedding guest, spending money on appropriate wedding attire and a generous gift, only to be charged for parking when you arrive to the celebration… make sure your guests feel welcome when they arrive," says Meggie Francisco, a wedding planner and designer. The cost of this can hugely range, depending on if the hotel or venue valets, has guest self-parking or does parking for the guests, or includes it in the cost of the venue rental. So expect the cost to be from nothing up to maybe $20 per guest's car, or more.
Of course, one of the beautiful things about a destination wedding is that it's quite possible all the guests will be sleeping at the same venue where the wedding is taking place. "If your reception is at a resort or hotel where you'll be staying overnight, you really don't need to book a getaway car. "You'll be paying a hefty price just to drive around the block (most vintage Rolls Royce rentals start around $600 per hour," said Francisco.
Moreover, what most couples don't know is that late-night getaway photos rarely turn out as fabulous as they look on Pinterest. It's been a long night of drinking and dancing, and even the most talented photographers are battling less-than-ideal lighting conditions. "Have a petal toss after your ceremony instead, when everyone is looking their best," says Francisco.
Don't Even Think About Letting Drunk Guests Drive
If your wedding venue doesn't have overnight accommodations, and a hotel room block is not available within easy walking distance, you should definitely budget to provide guest shuttles to and from the party. "The biggest reason for this is safety: no couple wants to wake up the morning after their wedding to hear bad news of a traffic accident," said Francisco.
And if you're celebrating with alcohol, don't take the risk by assuming you'll be ok to drive. Book a car with a driver to get you safely to your hotel for the evening.
Don't Count on Uber, Lyft or Taxis
Beyond safety, making things convenient for your guests is also important. "Taxis and Ubers can be hard to come by in some locations, especially later in the evening. Nobody wants to be late to the ceremony or wait an hour after the reception ends to get a ride home," says Francisco. The more you can accommodate your guests, the better your celebration will be.
Tip: If you're planning a destination wedding in a remote location, and you have some flexibility in the budget, consider providing airport transportation for your guests—especially if you can recommend one or two specific flights and provide group shuttles for guests who choose to board those planes.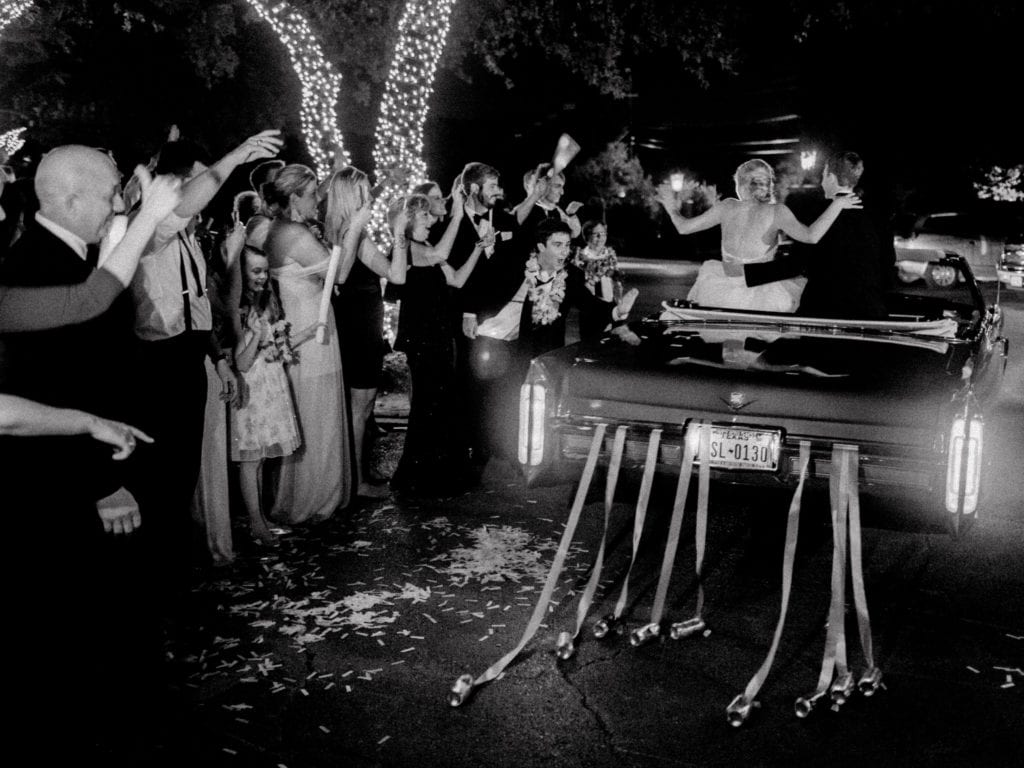 Add "Just Married" Cans to the Back of Any Vehicle
Here's a tip if you want a bunch of cans streaming from the back of your car for your getaway: "Before the wedding day, have a wedding party member string a bunch of cans on long ribbons. Tie the ends of the ribbons to one long wooden stick. Now, when your getaway car arrives on site, all that's necessary is to pop the stick into the trunk with the ribbons and cans trailing out!" says Francisco.
No need for a valued member of your wedding party to ditch the party to tie all the cans on to the car. Bonus: Once you're out of sight of your wedding guests, your driver can quickly pull over and tuck the cans into the trunk so they don't end up littering the highway.