As you plan your wedding, and expenses start adding up, you will wonder if there is a credit card that can help stretch your budget and get the best deals. While no credit card company offers a product that specifically earns extra points or cash back for once-in-a-lifetime purchases like a wedding dress, savvy consumers know that there's a best card for almost every expenditure — the one that earns the most value from your spending. This guide explains how cards that have cash-back and travel-rewards benefits can get you a little something for what would have been nothing (annual fees notwithstanding).
Important note: Credit card rates and perks are accurate as of publish date, but we suggest you confirm the policies on each card's website before you make any purchases as details can change. Using credit cards for big purchases reaps huge rewards but only if you plan to auto-pay immediately or pay off the bill quickly.  Some cards have annual fees.
*Additional Note: Due to Covid-19, many credit card companies have extended the time period in which consumers have to meet spend bonuses. Consult the terms and conditions for each card for more information.
The Best Credit Cards for Booking Any Type of Venue
Think about where you're hosting the reception. Is it a hotel? An art gallery? A banquet hall or restaurant? Depending on how your credit-card provider codes your venue purchase, you may be able to get points for the purchase.
For Hotels 
Use either a co-branded credit card that offers you bonus points on that specific hotel chain (Hyatt, Marriott, Hilton and IHG all have multiple versions of their own cards) or the Chase Sapphire Reserve or Sapphire Preferred cards, which give you 3X and 2X Chase Ultimate Rewards (UR) points, respectively, on travel purchases — including  hotels. UR points are considered especially valuable because they can be used with many airline and hotel transfer partners.
For Restaurants: 
Use the American Express Gold card, which earns 4X Membership Rewards points per dollar spent at restaurants (and at grocery stores), as well as some other perks like a $100 airline fee credit and a 35,000 Amex Membership Rewards point bonus if you spend $4,000 in the three months of card membership. These points can also be transferred to a variety of partners to book travel (ahem, honeymoon). The card has a $250 annual fee. It's worth checking with your card company to see if your banquet hall codes as a dining purchase before paying. You can also use these cards to earn bonus points on your rehearsal dinner.
For Art Galleries, Museums Or Amusement Parks
Use the Capital One Savor Cash Rewards (it has a $95 annual fee), which gives you 4% cash back on entertainment purchases (and dining, so you could use it at a restaurant venue too if you'd prefer cash back to points). The card comes with a one-time $300 cash bonus once you spend $3,000 on purchases within three months from account opening. But make sure to check with your card company to ensure your venue indeed codes as entertainment. In some cases, whether or not a certain place is definitely considered a museum or gallery (typically coded as a 'tourist' attraction) could be debatable.
The Best Credit Cards for Invitations, Thank You Notes, Photos & More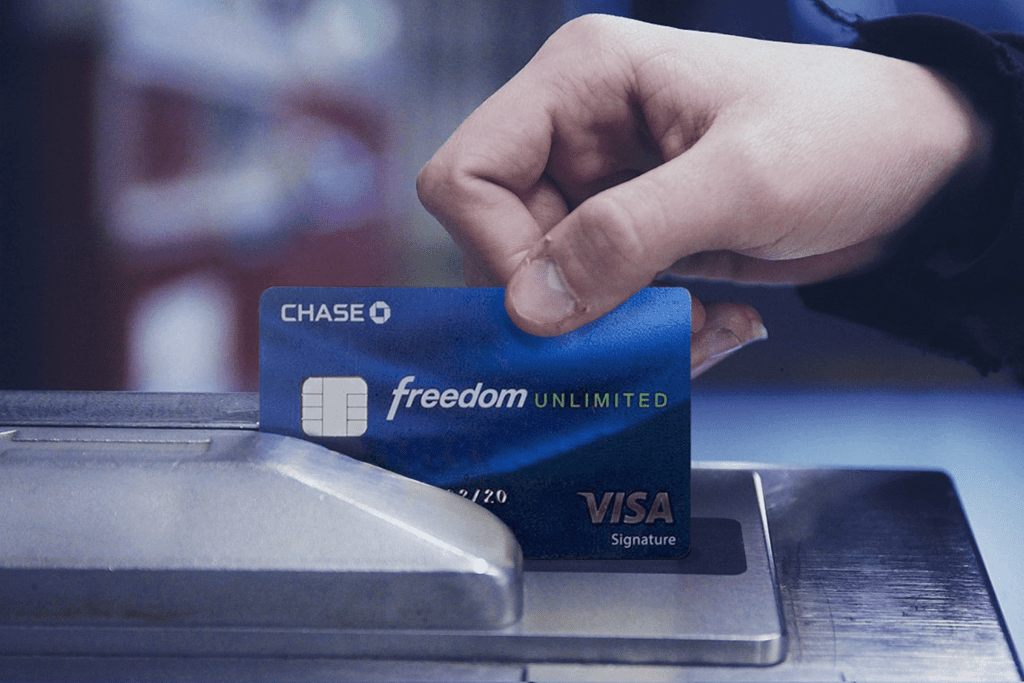 Although these purchases may seem small, they can really add up. I bet you never thought you'd spend a $1,000 on paper, right? But things like invitations, thank you notes, table numbers and place cards may end up costing more than you bargained for. Since this spending falls outside of big bonus categories like travel or dining, you need a cash-back card like the Chase Freedom Unlimited (which is also one of the cards we recommend for buying an engagement ring) too. This card has no annual fee and 0% APR for 15 months from account opening. Plus, you earn 1.5% cash back on all purchases (yes, this should replace cash whenever possible if you can pay the monthly charge) and an extra $200 if you spend $500 within the first three months of opening the card.
When to Use Credit Card Shopping Portals
There is another way to get bonus points for these outside-the-box categories. Regardless of the credit card you use, you can get extra rewards by making your purchases via a "shopping portal." These are websites that offer you bonus airline miles for shopping at specific vendors, redirecting you to each vendors' own website to shop as usual, and then tracking your redirect and purchase with a cookie. Airlines such as Alaska, American, Delta, JetBlue, Southwest and United all have shopping portals. All you need is a frequent flyer account with the airline to sign up and start shopping. Tip: Sign up immediately since these are all free-to-join loyalty programs!
Let's walk through an example: If you plan to use an online company like Shutterfly to create a wedding photo album, you can go to your favorite airline (or hotel, or even bank) shopping portal and see if you get any bonus points for the purchase. If not, you can browse other photo websites that may offer bonus miles, clicking through to them to shop as you normally would once you've selected your vendor. The best-case scenario would be to find a portal where buying a wedding photo album earns you between 2X and 12X points. In some rare and lucky circumstances, you may find bonuses up to 35X per dollar spent!
The website evreward can help you to find out which portal will give you the most bonus points/miles if you're searching for a specific vendor, but are flexible on loyalty program earnings. Don't expect to see Amazon on the list of shops; that company has its own card and loyalty system.
As there are thousands of different vendors to choose from on these shopping portals, you should be able to maximize your spending on most miscellaneous wedding purchases. So take some time to explore your options. It will be worth it in the end  — like when you can use all those bonus airline miles to upgrade from economy to business on your honeymoon flights (see our article on Best Credit Cards for the Honeymoon).
The Best Credit Cards for a Wedding Dress, Tux, Bridal Party Gear and Gifts
Since no credit cards offer added bonuses for jewelry or clothing purchases, you should use either a cash-back card or a rewards card to earn points in whatever program you prefer.  There are also special offers all the time (you'll see these listed when you log in to your credit card online). When I was writing this story, for example, the Platinum Card from American Express card offered two $50 statement credits for use at Saks Fifth Avenue, which gave me a reason to both shop at Saks and use Amex. (For the record, this card offers a variety of other perks that offset its $550 annual fee, like Uber credits, airline credits and airport lounge access.)  Alternatively, you could use a cash-back card like the aforementioned Chase Freedom Unlimited, which is always a solid choice for purchases outside of big bonus categories.
Shopping tip: You may be able to find or try on some items in a store and then order them online at a shopping portal. While this may not be possible for a wedding dress, it could make sense for bridal party gifts, wedding shoes, a tie or some ridiculous bachelor party prop (fuzzy handcuffs, anyone?).
Best Credit Card When Shopping for Lots of Little Things
For earning points on multiple purchases not in bonus categories, the Amex Everyday card is an ideal choice for a few reasons: the biggest being that you get 20% extra points bonus if you make 20 purchases or more in one billing cycle. The card's other strengths include the fact that it has no annual fee, earns 2x on both supermarket purchases (up to $6K a year) and travel (if you book through AmexTravel.com), offers a 10,000 point bonus after spending $1,000 in the first three months of card membership, and has 0% APR for the first 15 months. If you ever needed a reason to shop like crazy, this would be it.
If You Can Only Get (or Only Want) One Credit Card
You may not have the credit score, time or energy to get several different cards — we get it, wedding planning can be draining (on your bank account, on your soul, etc.). But don't worry, if you can only get one card, the Discover It Cashback is a solid choice especially if you need to finance certain aspects of the wedding as it offers 0% APR for 14 months.
While you only get 1% cash back on most purchases (though you can sign up for 5% back bonuses each quarter on categories like restaurants and supermarkets, so pay close attention), the card will match all of the cash back you've earned at the end of the year, meaning you can recoup some of those hefty wedding costs. Tip: Make sure to apply for the card at just the right time in order to charge all your wedding expenses during the first year of card membership for the maximum amount of cash back possible.
One final note: You can strategically use pricey expenditures — such as those associated with a wedding — to help you hit those hefty spending minimums that earn sign-up bonus points, like the $5,000 on the Amex Platinum in the first three months of card membership, which gets you 60,000 Amex Membership Rewards points … or the 50,000 Chase Ultimate Rewards points you earn after spending $4,000 on the Chase Sapphire Reserve card in the first three months of card membership. These points can later be transferred and used for honeymoon travel. The perks increase for couples as BOTH of you can get new credit cards — after all, the couple that spends together, stays together (isn't that how the saying goes?).  
Biggest Mistakes People Make:
Don't apply for any cards before clarifying with your vendors that they actually accept credit cards — some smaller companies, like florists, DJs or photographers may only accept cash or debit.

Don't forget to confirm

which

credit cards venues/vendors accept, such as Visa, Mastercard, Amex or Discover. My wedding venue didn't accept Amex, and that changed my whole spending approach, but at least I had asked and was prepared ahead of time.

Don't get into debt. If you can't pay off your bill right away, that's okay, but make sure to use a card that offers 0% introductory APR to give yourself some time. Otherwise, the cash back or rewards you earn simply won't be worth the debt and high interest rates.