When it's time to plan your bachelor party, the all too common scenario looks like this: step 1) get drunk at a bar, step 2) drink more at another bar. But is that how we do this, really? Of course not. Men, this is your big sendoff. Take advantage of the freedoms you get on this one occasion. Hatch a plan. There's so much more to do than just get wasted — and, sure, there's plenty of time for that, too.
To help you get started, we've organized 66 bachelor party ideas into easy-to-parse categories for quick browsing. This includes outdoor bachelor party ideas, inexpensive bachelor party ideas, funny bachelor party ideas, you get the idea. To be as inclusive as possible, consider having two or three "events" in a day, evening, or weekend — dinner, drinks, and the club, etc. — because this allows buddies with different budgets and schedules to participate at a level they can handle. Will it be an unforgettable blowout? Absolutely. Will you remember every moment? Probably not.
Sports
Golf
If the only club you have any desire to see these days is stored in your golf bag, look for unlimited golf specials (you can play a single round any day). Websites like Tee Times USA list courses where you can play multiple rounds for the price of one for $100 per person. You won't get these deals in the pro shop. Otherwise, a round of golf is a great kick off to a bachelor party and may be the only excuse you have to start your bachelor party at 8 a.m. And no, miniature golf is not a suitable substitution for a real game. See also our "Best Golf Courses for Bachelor Parties." (Photo by teetimeusa.)
Paintball
Any bachelor party activity that rewards bragging is ideal. However, leaving the losing team with welts and bruises is a step above. This is also a great chance to get back at that buddy who dated your sister.
There are paintball courses all over the U.S. that allow you to live out your military fantasies in a non-virtual setting but still fall far short of actual conflict. If you're worried about weather messing up your war games ('Nam vets are shaking their heads at you), find an indoor course like Houston Indoor Paintball. Games start at $40 and include the gun rental, mask, vest, and 150 paintballs. (Photo by plpaintball.)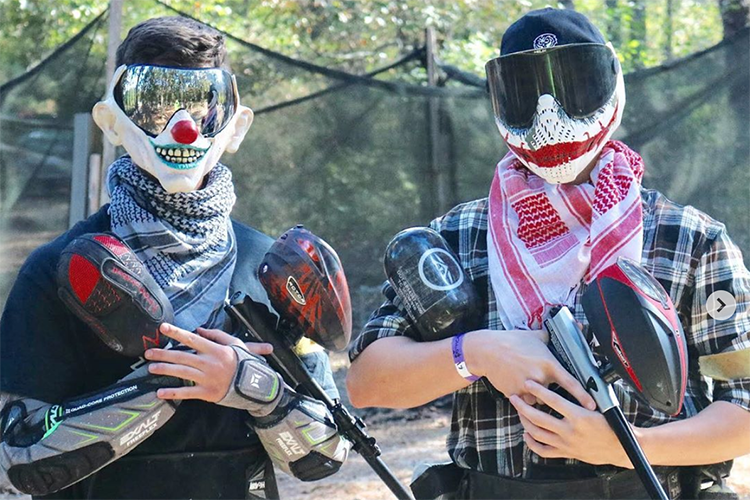 Subway Baseball Doubleheader
What's more exciting than sitting on metal benches for four hours watching a sport that averages 18 minutes of action per game? Doing it twice. I'm not talking about a standard doubleheader. I'm talking about the entire experience including pregame and postgame at different ballparks.
You'll have to pick a metro area with two baseball teams easily connected by public transit. New York, Chicago or SF/Oakland will do. MLB rarely schedules both teams in town on the same day. When they do, it's usually a random Monday or Thursday and the games are staggered day and night (so you may have to ditch work — damn). In New York, take the subway from Yankee Stadium to Citi Field. In Chicago, catch the Red Line south from Wrigley Field to whatever the White Sox are calling their stadium these days. From AT&T park in San Francisco, catch the BART under the bay to Oakland Coliseum. (Photo by eddie_rage34.)
Axe Throwing
After a hiatus of several centuries, axe throwing is back on the scene, albeit with slightly less bloodshed. Facilities are springing up in cities all over the U.S. and cater to private events like bachelor parties for about $40 per person. Coached and highly supervised, your party will get their own lanes to hurl axes at wooden targets. Sites are either BYO or have food and drinks for sale.
Would you prefer to host the axe throwing in the comfort of your own backyard? In a handful of cities, the Backyard Axe Throwing League (BATL) will bring the whole setup to you. (Photo by cantfeelmytoews.)
Bowling
The dated bowling alleys from your youth have all been bulldozed, but a wave of upscale bowling alleys have taken their place, offering the exact same product at five times the price. This is your bachelor party — not a grade school birthday party — so pay extra for a classy venue. Lucky Strike operates bowling alleys in prime city locations with set prices for two hours of all-you-can-bowl, eat, and drink for about $75 per person. (Photo by rbelobrov.)
Skiing
With a big enough party, you can rent a sick chalet for a weekend on the slopes for under $100 per person per night. We're talking a fireplace, two-story living areas, floor-to-ceiling windows with mountain views, and a private deck complete with hot tub. For lift passes, unless you've invested in an Epic Pass well in advance, you'll want to avoid resorts that have been swallowed up by the Vail Corporation — $209 for a one-day lift ticket? Wherever you go, buy your discount lift tickets online in advance on a site like Liftopia. (Photo by Liftopia.)
Snowboarding
Obviously, the criteria listed above for skiing applies for snowboarding too. Just make sure you avoid the ski-only snobbery of Deer Valley Resort in Utah or Mad River Glen in Vermont. Also, most big resorts in France have banned snowboarding, so opt for Switzerland or Austria if you're heading to Europe. If you want to get really freakin' far away, Shymbulak Ski Resort, located just outside Almaty in Kazakhstan, sells lift passes for $10 to $20 a day and nearby Medeu, a massive Sovier-era outdoor ice skating rink, costs just $5 for an all-day pass.
If a mere weekend on the slopes isn't epic enough for your bachelor party, check out the Snowbombing festival, which happens every April in Mayrhofen, Austria. After full days on the slopes, DJs welcome you for après-ski, then let you loose in the village to full lineups of big name electronic music acts. Don't worry, you can sleep on your honeymoon.
Staying in the states? The best snowboarding areas are Mammoth Mountain, Heavenly, Squaw Valley, and Lake Tahoe in California; Park City in Utah; Vail, Aspen, Breckenridge, and Steamboat in Colorado; and Jackson Hole in Wyoming. (Photo by Snowbombing)
Football All Weekend
Throw your bachelor party in a city with both college and professional football teams and pick a weekend they are both in town. Book an all-inclusive box for both games, fill in the gaps with tailgates, and you may not have time left for sleep. Who knew watching sports could be this exhausting?
Take a weekend in Phoenix in the fall. Catch an Arizona State football game on Saturday and a Cardinals game on Sunday. Bonus points to anyone still alive enough to catch a Monday night Diamondbacks baseball game. And of course, there are always high-school games, too. (Photo by statefarmstadium.)
All-in-One Sports Complex
If you want to play multiple sports at your bachelor party but are limited to just one day, find a sports complex that offers the most options. Chelsea Piers in New York City is a great example. Tee it up at the driving range for $30 to $150 (pricing depends on if it's peak time and how many balls you get), then hit the batting cages for either 30 minutes ($55) or 60 minutes ($85). Follow that with a round of bowling (on Mondays you can get unlimited bowling for $23 per person). Rock climbing, ice skating, sand volleyball, flag football, and basketball are also among the 25+ sports offered here. They'll even customize a bachelor party itinerary with dodgeball, an obstacle course, and an American Gladiators-style jousting tournament, patriotic spandex not included. (Photo by chelseapiersnyc.)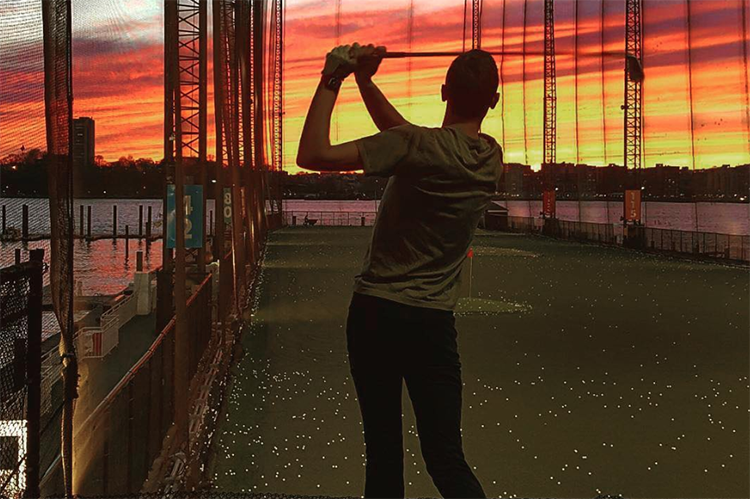 Water Sports
Fishing
How do you make fishing an extreme sport? Book a deep sea fishing tour. This is your chance to catch marlin, sailfish, and sharks as big as you are. Do it now before your partner starts approving finances — a few hundred bucks for a fishing outing where you likely won't catch anything and often don't get to keep what you do catch is tough to justify to anyone not doing it. Charters like Queen Fleet near Tampa, Florida, offer half-day fishing for $57 per person and all-day fishing for $80. Make it extra interesting by having everyone throw in $20 for the jackpot. Whoever has the biggest fish at the end of the day gets the pot. (Photo by firedupfishingcharters.)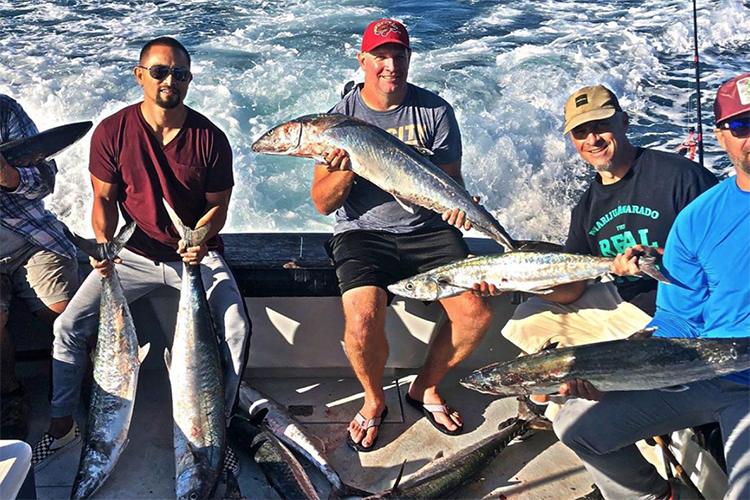 Diving With Sharks
How does coming face to face with the most intimidating shark in the ocean sound for the manliest of sendoffs? There are organized shark dives all over the world — in Mexico, Hawaii, the Philippines, Fiji, Belize, Cuba, Ecuador, New Zealand, Australia, and the Bahamas. We like the idea of having Cape Town, South Africa, as a base. From here, you take a long day trip out to Seal Island and its population of great white sharks. No SCUBA certification is needed as your protective cage dives just below the surface.
If you want to try it without protection — to raw dog a shark drive — head to Beqa Lagoon in Fiji. Here, you'll sit 100 feet underwater cage free as bull, nurse, and reef sharks circle around, waiting for a piece of the fish carcass buffet your dive masters brought down with you. It doesn't always go as planned; just check out this video. (Photo by Padi.com)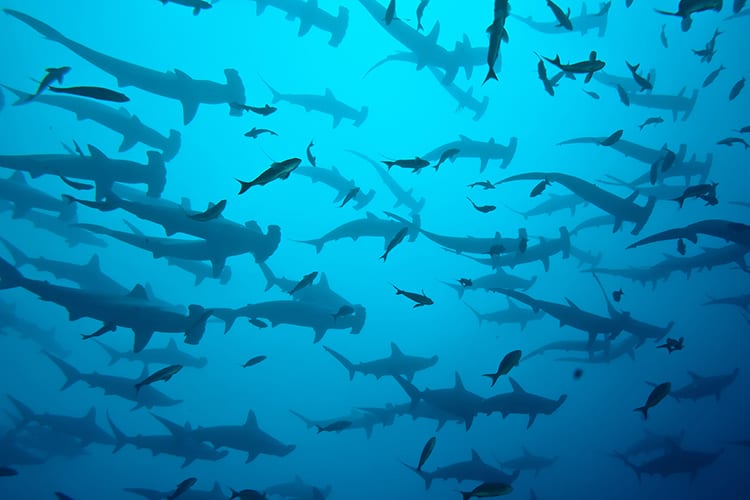 White Water Rafting
To make this count, don't settle for anything less than class IV rapids. Ideally, a river with multiple class IV and even a class V rapid or two will humble the most vocal trash-talker of your party. The Colorado River in Arizona and the Arkansas River in Colorado (don't look at us — we didn't name them!) have the most extreme commercial-run rapids in the USA. Geo Rafting offers one-day, overnight, and two-day trips down the Arkansas River for $105 to $350 per person. (Photo by stevencoffman.)
Tube Down a River
If that white water business seems like wayyyyy too much work, float down a much more easily navigable waterway. Tour operators like Riverside Rentals in Winamac, Indiana (90 minutes from Chicago), will set your crew up with tubes for $20 a man, drive you upstream, and release you to drift down a river for hours until you reach their shop. They even have tubes for your coolers!
This is the least amount of physical activity you can have at a bachelor party. River tubing is lazier than sitting on a couch drinking beer for hours because you never have to get up to use the bathroom. You are floating down the bathroom. (Photo by connorisaaccain.)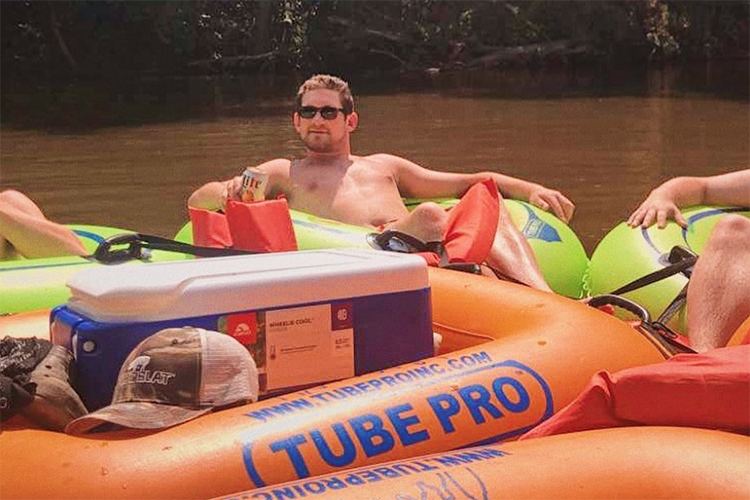 Rent a Lake House
Even if a friend's family has a lake house, you don't want to foist a bachelor party on a house full of family heirlooms. You want a rental. Whatever gets broken — and shit will undoubtedly get broken — you can easily pay to replace. On Home to Go you can find a three-bedroom lake house rental anywhere from $125 to $400.
Make sure you are stocked with ample solo cups, ping pong balls, and corn hole sets. Be sure to rent jet skis and a boat and go tie up at a sandbar party. Maybe even recruit new friends back to the house for an afterparty. (Photo by caityfriedrice.)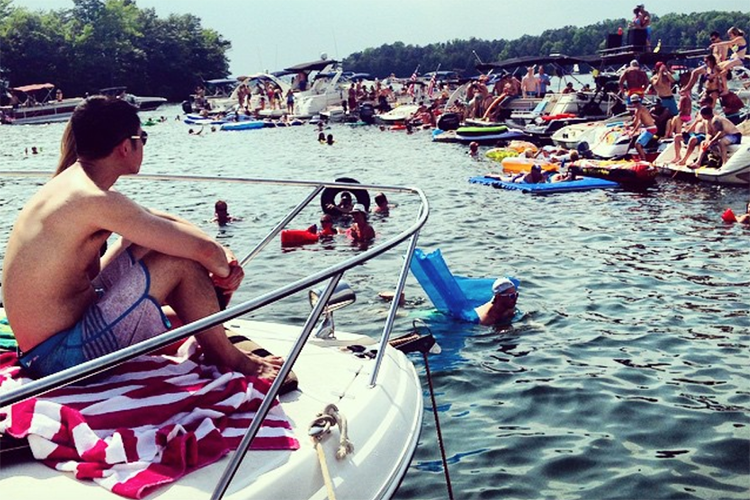 Rent a Beach House
If no one from your group should be trusted with motorized vehicles after the clock strikes noon, pick an ocean over a lake and spring for a house right on the beach. You'll want to be within walking distance of everything — Santa Monica, Atlantic City, and Miami Beach let you have the ocean in your front yard and nightlife in your backyard. Beach house rentals are a bit more expensive than those by a lake, but you can still find a decent sized place on Home to Go for $275 to $1,000. (Photo by pacificsandcastle.)
Outdoors
Camping
If the wives and girlfriends are worried about a bachelor party getting out of hand, a camping trip with the boys sounds much more innocent than it has to be. Don't pick the Jellystone campground off the interstate. Disperse camp in rugged mountains or forests. Be sure to invite your Eagle Scout buddy who you picked on as a Boy Scout (but now you envy his wilderness skills). Colorado, California, Washington, and Oregon have ideal landscapes and are conveniently among the eleven states that have legalized recreational marijuana. While we're on the subject, both Denver and Oakland have also decriminalized magic mushrooms. There's no better way to bond with nature and your boys than to take psychedelic journey into it… so we've heard. (Photo by independentman.)
Hunting
A group of untrained men yielding loaded weapons and a cooler of PBRs? What could go wrong? Chances are someone has a cousin willing to take you all hunting. Guns are provided too — he has an arsenal of rifles in case terrorists come after his town of 2,000. But a common misconception among hunters is that they also qualify as instructors. So take each instruction with a grain of salt and be extra conservative about ever firing that thing. Accept that you won't be coming home with dinner and you won't end up disappointed.
Are you already a group of country boys who has hunted your whole life and needs no instruction or guidance telling you how to hunt? Then get your asses to an actual city for your bachelor party. (Photo by feetdown.waterfowl.)
Shooting Range
If you've never fired a gun before, this is a better place to start. In this safe, fully-controlled environment, feel free to empty your clip without worrying where a stray bullet may end up. A gun is a powerful weapon — something you can't fully appreciate until you've fired one.
Most cities have gun ranges offering beginner shooting experiences complete with a lesson from someone more qualified than cousin Eddie. Prices vary depending on the location, but you can find rifle and ammo rental packages starting at $75 to $100.
Got some second-amendment haters in the group? Try an archery range instead. In either case, save the booze for after. (Photo by kalmado)
Boat Charter
The boys from The Lonely Island capture it best; if you're on a boat, you've earned the right to party with your nose up a bit higher. The only requirement here is to be near water, as virtually every waterway that allows motors will have boat operators willing to take your bachelor party for a booze cruise. You'll blast music, have a dance party, and get hammered. It's the same thing you'd do on land, but it's on a boat, so it's way cooler. Pros: In some areas (think: Florida), you can go bar hopping from island to island and none of you have to drive. Cons: If the booze doesn't make you sick, seasickness could.
This Miami-based charter company offers half-day and full-day packages depending on the type of boat you want to rent. A 51' yacht with captain and jet skis included will cost $1,900-$2,600. (Photo by laketravisyachtrentals.)
Beach Bonfire
Maybe your hard-partying days are behind you. So if life has Yoko-ed your crew, a reunion and reminiscing may be enough for your bachelor party. Even the most restrictive of your friends' wives can't deny a hall pass for a bachelor party as innocuous as a beach bonfire. Any beach that doesn't enforce bonfire restrictions will do, just bring along some layers and bottles of whiskey. The storytelling will be that much more funny with a bit of green to pass around. (Photo by howlerbros.)
Spelunking
Your favorite vocabulary word from fifth grade can become part of your bachelor party. We're not suggesting a tour with well-paved paths and handrails where the group moves as fast as the slowest senior citizen and every tour guide makes a lame joke about a phallic stalagmite. We're talking a cave adventure with headlamps, jumpsuits, and terrain that hasn't been modified for your comfort. Ideally, it's a wet cave with natural slides, waterfalls, and underwater passages.
Wild Cave Tour in Mammoth Cave, Kentucky, fits the description and is only $60 per person but you'll find more extreme options in countries with less concern over liability. Cueva de la Vaca in San Gil, Colombia, and Kanba Cave in Semuc Champey, Guatemala, are examples of extreme spelunking adventures no American insurance company would ever cover. (Photo by laidbacknomad.)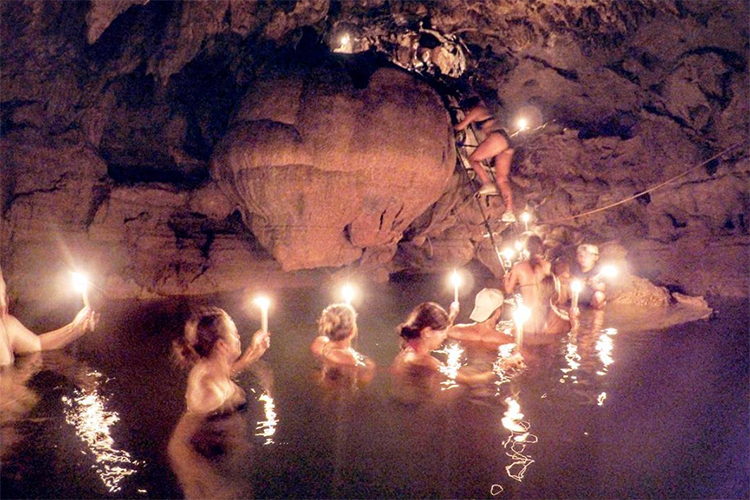 Dude Ranch
What better place for a bunch of dudes on the most dude-centric of celebrations? This is your chance to revive those childhood fantasies of becoming a cowboy. Some ranches teach proper skills like lassoing and penning, while other spots offer riflery and archery. Arizona Cowboy College offers one-day ($450) and three-day ($1,250) programs with full board for you and up to 11 friends. Pass the basics and you'll even head out to the desert in search of … surviving. (Photo by clazyuranch.)
Canyoning in Switzerland
The concept of canyoning is simple; start at the top of a canyon and work your way down the river to the bottom. But the concept is the only simple thing about it. Interlaken, Switzerland, is your base and Chli Schliere is the canyon you want.
The views will be majestic. The fellas won't realize what they've gotten themselves into. Case in point: You'll pass a series of waterfalls that you'll need to jump, slide, or rappel down. Watch this YouTube video and it looks like an awesome waterpark, but you'll realize quickly into your journey that, unlike a waterpark, this canyon never intended for you to be doing this. If you want video to capture the look of fear on your friends' faces, you can hire one at this site. (Photo by Outdoor Interlaken)
Biking Death Road in Bolivia
Years ago, the highway heading northeast out of La Paz, Bolivia, was declared the "World's Most Dangerous Road" due to its harrowing turns, steep cliffs, narrow width, and lack of guard rails. It wasn't uncommon for a car or bus to slide off the road with everyone aboard falling hundreds or thousands of feet to their deaths.
"Death Road," as it came to be known, attracted thrill seekers, and tour operators began running mountain bike tours down the deadly highway for about $100. At the bottom, survivors were congratulated with commemorative t-shirts. Occasionally, there were leftover shirts. Bolivia did eventually build a new, safer highway, which now gets most of the traffic, but the lore of Death Road lives on and the tours continue.
Adding atmosphere, insanely cheap prices, widespread corruption, and surrounding mountains filled with coca plants make the party life in La Paz legendary. The city is home to Route 36, which claims to be the world's only cocaine bar. Turns out Death Road could be the tamest part of your bachelor party. (Photo by samkatzisadon)
Culture
Concerts
Did you know Guns n' Roses has reunited and is touring? Pick out the band from your childhood that featured most prominently in your mix tapes and consult a website like Ticketmaster, TickPick, or Eventful for show times and places. Line up your bachelor party with a stop on their reunion tour or current iteration of their retirement tour. Ideally, they are headlining a festival so you can make a weekend out of it. Word to the wise: Tickets in venues like stadiums can range from $1,000 floor seats to $100 for the nosebleeds. (Photo by gunsnroses.)
Museums
Maybe your partner won't approve anything that looks like a normal bachelor party. Maybe this is the only way you'll ever get your friends to a museum. Or maybe you are all just a bunch of cultured snobs. We don't judge. But believe it or not, you can make a museum outing worthy of a bachelor party.
Look for after-hours, adults-only listings at museums or galleries. Typically they happen once a week or once a month and take place during evening hours for a 21+ crowd. You'll be able to roam the museum, free of kids, with drinks in hand. San Francisco has two options every Thursday: NightLife at the California Academy of Sciences for $16 per person and After Dark at the Exploratorium for $20 per person. (Photo by mile_kai.)
NASA Experience
Before you try to give me a wedgie, listen up. The Kennedy Space Center in Cape Canaveral, Florida, has some seriously cool attractions including a shuttle launch experience, astronaut training simulator, and viewings for actual shuttle launches.
Still not impressed? You will be with this option, but it'll cost you. A ZERO-G Flight lets you experience actual zero gravity for 20-30 seconds 15 different times by flying in a mind-boggling and stomach-churning vertical parabolic pattern — all for the modest price $5,400 per seat. You can bring that down to a $4,583 group rate, though, by satisfying the most unlikely of trifectas: being a space nerd that has $5,000 to spare and 11 friends. (Photo by doctorzotdj.)
Comedy Show
These are easy; sit back and let someone else do the entertaining. The raunchier the comedian, the better for a bachelor party. Pick a classic venue like The Comedy Store's Original Room on Sunset Boulevard in LA where tickets usually run $20 to $30 a man. Get seated up front and let the comedians know the occasion. They'll heckle you for having your bachelor party at a comedy club while the bachelorette is probably getting a lap dance from a Chippendale. The booze will keep everyone smiling. (Photo courtesy of @thecomedystore.)
Murder Mystery
Make it a killer bachelor party (yep, we went there) and take part in a fully immersive murder mystery experience. Bed and Breakfasts all over the country turn into interactive whodunnits either on demand or on set weekends. Find a smaller B&B, like the Murder Mystery with Friends at the Madison Street Inn in Santa Clara, CA, that you can rent out completely to ensure someone from the party walks away with bragging rights. Prices start at $85 per person for the event, plus the cost of a room. (Photo by themurdermysterycompany.)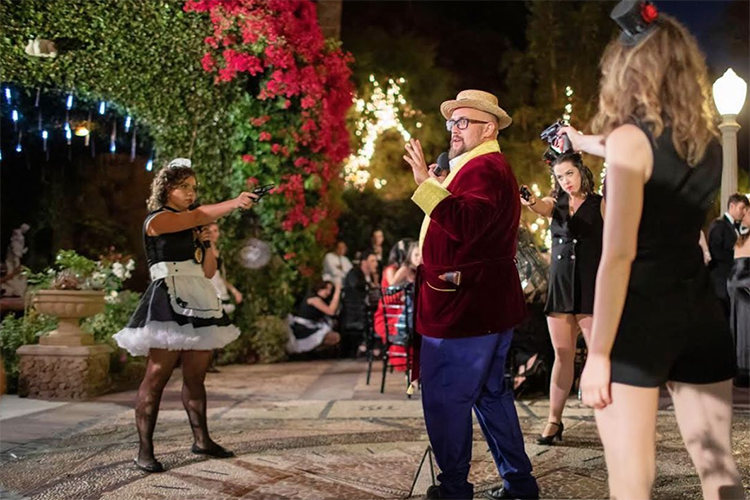 Magic Show
Get a reservation at a professional Magic Theater like LA's Magic Castle and prepare to be blown away. (Hint: The Magic Castle is a private venue, but you can get a reservation by booking an area Hilton hotel at least six weeks in advance through this link). No matter how many birthday parties you've been to or episodes of The Masked Magician you saw, you'll have no idea how these guys do what they just did. Drinking amplifies the wow factor. These magicians can make objects disappear faster than your freedom on your wedding night. Dinner here will cost you at least $100 plus whatever the bar bills comes out to be. (Photo by boycealex.)
Festivals
Oktoberfest
The ultimate beer drinkers' pilgrimage takes place in Munich at the annual Bavarian festival known as Oktoberfest, which typically lasts from mid- or late-September to the first Sunday in October, though it's been cancelled this year due to the pandemic. More than six million people from around the world attend, their livers tasked with filtering millions of liters of special Oktoberfest brew. Your loud and debaucherous crew will fit right in, especially if you all pick up lederhosen beforehand.
You definitely want table reservations if you'll be running deep with a group of all dudes, and these book out at least six months in advance (mid-week, you'll have more luck). The reservation is technically free; you just have to pre-pay for a half chicken and two liters of beer. Once at a table, you'll get the Oktoberfest of your dreams: Busty women shuttling liter steins to your party (Americans = tips) as you stand on the benches, arms draped over German men belting out John Denver's "Take Me Home, Country Road" to the music of an oompah band. (Photo by Oktoberfest)
Burning Man
If you've ever "burned" or wanted to do Burning Man, and your best mates don't share your interest, this is your chance to give them no choice. Be prepared; this will be unlike any bachelor party you've ever seen (or any event in your life, really). Gone are the strippers, the table service, the shitshow, and pretty much any semblance of bro-culture. Instead, you'll find the manifestation of an anti-establishment movement catering to the full spectrum of fringe interests taken to their extreme. Your mind will be repeatedly blown in ways you didn't think possible.
Do plenty of research; this is not like any other festival. It's located in the Black Rock Desert in northwest Nevada, approximately 100 miles north-northeast of Reno and takes place in late summer (assuming there are no pandemic delays or cancellations of this year's festivities). So study the Ten Principles, the Survival Guide, and decide what your party's contribution to the city will be. No money exchanges out there; you bring everything you need to survive the most inhospitable of climates. Remember: Don't tell anyone it's your bachelor party. Just… be. (Photo by Burning Man)
New Orleans Jazz and Heritage Festival
New Orleans' greatest festival (survivors of Mardi Gras will agree) is about more than jazz music. It celebrates the entire city that gives us this music. Notice the name — the "Jazz and Heritage Festival." It happens every year in late-April / early May before the city gets ungodly hot. Weekend passes run about $300 per person.
While the Jazz Fest has grown to attract mainstream headliners across genres, you and the fellas should focus on the locals — that goes for people, places, and bites to eat. Follow the schedule cubes to local acts on smaller stages. Outside the fairgrounds, the same theme applies. Pick Frenchman Street over Bourbon Street. The Spotted Cat over Pat O'Brien's. Be here on a Tuesday night to catch the Rebirth Brass Band at the Maple Leaf Bar. And if you must host a bachelor party of late night degenerates, at least join the local degenerates at Snake and Jake's Christmas Lounge, the ultimate dive bar, lit exclusively with red Christmas lights and selling cheap Schlitz until 7 a.m. (Photo by Jazz and Heritage Festival)
Coachella
The godfather of all festivals is more than worthy of your bachelor party. Top acts from across genres converge in this desert oasis each April, ensuring everyone in your group will be excited about someone. Which is good, because you'll have to drop nearly $500 on passes before you have any idea what the lineup is.
The most important decision you will make for a Coachella bachelor party, however, is the house. Home rentals are the way to go, and the Coachella Valley is full of houses of all shapes, sized XXL and above. Don't worry about weekend one vs. weekend two, just pick the weekend where you find the sickest house in the vicinity of Empire Polo Club. Pool and hot tub are essential, and make sure the master suite, which is all yours, has a private jacuzzi tub. You'll want a pool pre-party no one wants to leave and an after-party to entice any new friends from the festival.
Obviously, book way in advance. The best pads get snatched up well before tickets or lineups are even a discussion. However, you can find a sick house and wristbands last-minute, but expect to pay a heavy premium for both. This year's events take place October 9-11 & 16-18 (assuming we're post-pandemic). Headliners include Rage Against the Machine, Travis Scott, and Frank Ocean. More on the lineup here. (Photo by Coachella)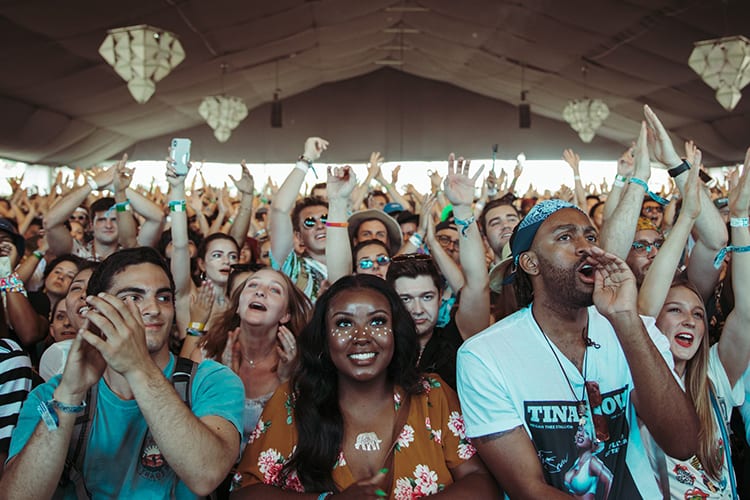 SXSW (South by Southwest)
Austin doesn't need a festival to qualify as a bachelor party destination, but this kicks the concept into high gear. SXSW (South by Southwest), the annual March conference and festival, is divided into three sections: interactive, film, and music. The music section, which happens during the second half of SXSW, is what you should target. You don't even have to worry about scoring your entire party badges, which can run over $1,000 each. SXSW takes over Austin. You'll find bands playing in every venue you can imagine and then some you couldn't. Ever caught a concert out the back of a van? Study the guide by The Austin Chronicle and make sure your boys are ready to move when something good pops up on Twitter. (Photo by SXSW)
Afropunk
Celebrating the most powerful acts of black culture, Afropunk is a movement presented in festival form. It has blown up well beyond its origins in Brooklyn and holds festivals in Atlanta, London, Paris, and Johannesburg. Tickets run $100 for the two-day event. Despite the global stage, Afropunk keeps true to its counter-culture roots and integrates vibrant film, arts, and fashion next to the music.
Even if your posse don't all share the African roots of most attendees and nearly all performers, this fully inclusive festival only requires a passion for any part of the urban art, activism, and black culture set to punk, hip hop, and soul music. Music acts this year have not yet been announced, but the Brooklyn show is slated for Saturday, August 22, at noon, assuming it happens. (Photo by Afropunk)
Any Next Big Festival
Sick of having to buy festival passes within minutes of them going on sale and without a clue of who's in the lineup? And good luck getting your entire bachelor party to log on six months in advance on a weekday morning for just the chance to get tickets. This is the reality for Coachella and Lollapalooza fans. But you can still look ahead for other "next big festivals." You know, before they're cool.
Find something in its first few years, but make sure the scene and music genres are what you want. Take, for example, the Same Same But Different Music and Arts Festival in Southern California (slated for September). It, of course, has live music, DJs and workshops, but float parties on the lake? That'll be perfect for nursing a hangover or laying the groundwork for your next one. (Photo by Same Same But Different Festival)
Comedy Festivals
If you'd like to stretch the male bonding a full weekend or longer, opt for a full-on comedy festival. The biggest of them all is Just for Laughs in Montreal, but make sure you stick to the English-speaking comedians. If you want to break up the laughs with the full spectrum of jaw-dropping talent, head across the pond to the Edinburgh Festival Fringe in Scotland.
Within the US borders, check out these comedy festivals: Bird City in Phoenix, Laughing Skull in Atlanta, Skankfest in New York, Big Sky Comedy Festival in Montana, Clusterfest in San Francisco or the Asheville Comedy Festival in North Carolina. There is no shortage to choose from.
This is about as easy as planning a bachelor party gets. Pure entertainment for the entire festival and after-drinks with the boys will consist of reminiscing about the best lines, including any that hit a little too close to home for someone in the group. (Photo by Just for Laughs)
Niche Interests
Cigar Clubs
Bringing your bachelor party to a cigar club is the closest you'll get to an episode of Mad Men. Sit back in leather armchairs wearing three-piece suits (optional) while you sip brandy and puff on cigars. The only thing in the room thicker than the smoke will be the chauvinism (also optional).
While most of the country moves to ban smoking, your lungs remain unsafe at cigar clubs. Be sure you are headed to a bonafide cigar bar like Soho Cigar Bar in NYC and not a bar that merely allows cigar smokers on their patio (to avoid conflict with other patrons). How to tell? If they sell cigars on site, you're in the right place. (Photo by richie_f_t.)
Helicopter Tour
You may think you've seen a city from every angle, but that all changes when you see it from a helicopter. You can catch a tour in most major cities. Example: 15 minutes in a chopper above New York (which feels longer than it sounds) will run you $200 per person. Note that most 'copters seat only six, max, at a time.
Of course, Vegas feels the need to do better. How does shooting a machine gun from a helicopter sound? Crazy, yes. But it's also possible courtesy of GunShip Helicopters. For $4,550, the bachelor party special gets you and nine buddies a turn shooting an M249 SAW and a Barrett M82A1 (translation: big, powerful guns) from their chopper to targets in their 71-acre Mojave Desert shooting range. (Photo by gunshiphelicopters.)
The Roller Coaster Ahead
You'll be catapulted along a track with seemingly no control over where it is headed. Your stomach will drop and you'll scream and spin and your life will flash before your eyes. Everything will be more expensive than it should be, and you'll get sucked into playing games that you'll later realize you never had any chance of winning.
Yeah, marriage sure can be a bitch. Blow off some steam at an amusement park before you climb aboard that lifelong wild ride. Some of the best in the country are listed in this roundup. (Photo by sixflags.)
Jump Off a Bridge
"If your friends jumped off a bridge, would you do it too?" Yes is the correct answer here, just be sure to enlist the life-saving assistance of a glorified rubber band. Bungee jumping is how you can separate the men from the… men who stay true to their convictions. Statistically though, you are much more likely to get killed in the car ride to the bungee jump than during the jump itself.
Kick off your bachelor party with a jump from a bridge, crane, cliff, or gondola (usually at least $100). The adrenaline rush will fuel you through the day, and the ribbing won't stop for those who backed out. (Photo by jobke1103.)
Zipline
Ziplining is a good compromise if some of the guys aren't willing to make the bungee leap. Be careful though; zipline courses come in all shapes and sizes so make sure you're not headed for the local Kiddyland adventure. Look for terms such as "extreme" with minimum height, weight, or age restrictions. Some of the best in the USA include The Super SkyRider Tour from Alpine Adventures in Lincoln, New Hampshire; the Extreme option from Royal Gorge Zipline Tours in Colorado Springs; or the SuperZip from Hocking Hills Canopy Tours in Rockbridge, Ohio. If you're not paying at least $100, you may end up either disappointed or dead. (Photo by vince.rhee.)
Run With the Bulls in Pamplona
Running with the bulls contains many bachelor party fundamentals: Mix life-threatening peer pressure with outdated machismo and wrap it up in a massive, alcohol-soaked celebration. Ta-da. The runs take place every summer (in July) in several Spanish cities with the biggest at the San Fermin festival in Pamplona (which is not near Barcelona or Madrid, by the way).
Your whole party can run with the bulls, but there is a right way to do it and a whole lot of wrong ways. Be sure to arrive at the starting line a good two hours before the run. Leave the booze at home for now (it's 6 a.m. anyway, you lush). Any attempts to record the run will get you a swift exit from the course so leave your phone and GoPro behind.
To complete the run successfully you must make it to the stadium before that last bull arrives (and the gates close) but not arrive before the first bull arrives (or you'll be greeted with boos). When you're allowed on the course, pick a starting spot after "Dead man's corner," for obvious reasons. Don't run when the fireworks announce the bulls have been released. You'll feel when it's time to run. As you navigate the crowd of 1,000 grown men literally running for their lives, run like hell until a bull gets close, then duck into a doorway and let it pass. If you go down and a bull stops and takes a liking to you, stay down. Follow these steps and you should all survive, you crazy bastards. You won't be the first stag party to do this, either. (Photo by Running of the Bulls)
Casinos
On one end of the casino spectrum is Las Vegas, with lights blazing and players cheering as waitresses fuel them with comped drinks. On the other end are Indian Reservation casinos where alcohol often isn't allowed and degenerates shuffle chips in an atmosphere as lively as a jury selection room.
You want to be as close to a Vegas-like casino as possible. The Caribbean has plenty. Don't waste away on slot machines. Play the games where most everyone wins or loses together. Take over a blackjack or craps table, but learn the rules before you get here. Also note that many of the big hotels in Vegas also offer luxe swimming pools, golf courses, spas, and nightclubs. A partial guide is here. (Photo by blazethejeweler.)
Poker Tournament
Unless you're a veteran of the casino poker tables, it's best to keep this tournament in house. Remember what they say in the movie Rounders: "If you can't spot the sucker in the first half hour at the table, then you are the sucker."
Have all of your buddies throw in for a winner-take-all Texas Hold'em tournament. Chances are, you've played poker with these guys before. If you never win, skip the tournament in favor of other bachelor party ideas. Just because everyone else at the table is your friend and you are the bachelor, doesn't mean you can't still be the sucker. (Photo by hobbyist_won.)
Retro Video Game Tournament
TV technology has come a long way since your dorm room tournaments — as has video-game play. But that doesn't make modern gaming any more fun. Find a friend with an old-school Playstation, N64, or Sega Genesis, buy the right adapters, and fire up a tourney on a 65-inch 4K UHD. Fill out a bracket for Street Fighter, Mortal Kombat, Mario Kart, GoldenEye, or your favorite year of Madden. Then cook up some ramen or Kraft Easy Mac and get the tournament started. (Photo by passions.geek.)
Escape Room
You'll be locked in a themed room with subtle clues that will help you solve a series of puzzles and challenges in order to escape the room within 60 minutes. Divide your bachelor party up into teams and see who can escape the fastest. If only marital challenges were this quick and entertaining to solve.
If this seems a little too family-friendly for a bachelor party, try Escape Vegas XXX ($35 per person) where the escape room challenge is surviving a murderous stripper on the loose in the strip club. (Photo by escapevegasx.)
Food and Drink
Steak Dinner
A group of men sitting around eating big chunks of meat. It doesn't get any more primal unless you slaughter the cattle yourself (don't try it). We're not talking about a two-for special at Applebee's here. You want a proper steakhouse where everything is ordered a la carte and your pretentious waiter snickers at your buddy who tries ordering chicken. Four dollar signs on Yelp. Wash everything down with ample bottles of red wine. We have a guide to some of the best steakhouses in New York and San Francisco, plus individual city guides rounded up on our Bachelor Party page. (Photo by Keens Steakhouse.)
Real Biergarten
It's like a beer garden, but it's German. In case you haven't noticed, Germans are more intense about everything (see: 20th century European history). One of those categories is beer drinking. Find a proper Bavarian beer garden, like Brauhaus Schmitz in Philadelphia, where high alcohol German imports are served in liter steins and the sausages are big enough to make your bachelor party uncomfortable. (Photo by augustinerbrau.)
Drinking Games
There is a time for drinking games to be casual social events where the objective is to get a few laughs and a moderate buzz. That time is not your bachelor party. With all the boys together, this is the ultimate chance to square off in drinking games of skill with no girls around to get annoyed at how seriously you are taking this. We're talking brackets filled out on the inside of Bud Light cases and bragging rights to last a lifetime: "Ya, but we kicked your ass at Michael's bachelor party!"
Want to learn the best skilled drinking game you've never heard of? It's called Baseball, incorporates elements of flip cup and beer pong, and lets up to eight people play per game. (Photo by beer_pong.official.)
Brunch
Say what you will about brunch, but there is no better excuse to start drinking before noon on a Sunday. Tell someone you are going to a bar at 10 a.m. Sunday morning, and they plan an intervention. But use the word "brunch" and suddenly everything is OK. Ask the bartender to go easy on the OJ with those bottomless mimosas.
Brunch is also how you get one more day out of a bachelor party. When brunch ends, everyone will cancel their Sunday afternoon errands and head en masse to another bar. Because you are all drunk now and who gives a fuck about anything else. (Photo by shane.donovan.)
Bar Crawl
Warning: These are much harder to do now than they were in college. Whatever you do, do not map out a route of a dozen bars, starting at noon, with an hour allotted at every bar ending up at the club.
You'll do it anyways, and you'll end up separated, blacked out, phones dead, and eating a Denny's Grand Slam breakfast by sunset. At least one guy from your bachelor party will end up sitting on a curb with his wrists zip-tied behind his back and another will wake up the next day next to your waitress from Denny's. Tough call which is worse. No one will make it to the club. Don't say we didn't warn you. (Photo by ontherocksbarcrawl.)
Brewery Tour
Let your buddy who wears plaid shirts to weddings take the reins here and pick the local brewery for your bachelor party to tour. Odds are, he works in a microbrewery or at least has one in his basement. He'll be so excited you finally want to listen to him talk hops and barley and fermentation — until you tell him to shut up and pour you another beer. Some sites can point you to the nearest distillery in your 'hood, anywhere in the USA. Yard Brewery in Philadelphia offers tours for $10 per person… how can you say no to that? (Photo by rosslandbeerco.)
Motorized Vehicles
Operate Heavy Machinery
Does your bachelor party include the guys you built imaginary construction sites with back in the day using Fisher-Price sandbox excavators? No need to imagine anymore. Dig This in Las Vegas lets you operate their two bulldozers, four excavators, two track-type skid steer loaders, and two 5.5-ton excavators for one hour from $80 per man. Or you can reserve the entire venue and ask for the "Team Challenge" where you'll battle each other in challenges such as "Who Dug the Best Hole?"
Union construction workers in your group may not be thrilled that this is how you are spending your bachelor party. Or they may treat it like a normal work day and sit in the trailer watching TV. Either way, at least these days everyone doesn't have to go home once the street lights go on. (Photo by digthisvegas.)
Go-Kart Racing
You may have grown up since the days of being that kid who loved racing carnival go-kart tracks, but go-karts have grown up as well. K1 Speed has indoor race tracks all over the US with 20 horsepower electric karts that top out at 45 MPH. You can even rent out the track exclusively for your party, complete with a podium ceremony for the winners.
As you might expect, the most hardcore go-kart options are in Vegas. Exotics Racing tops them all, offering 4-stroke gas engine go-karts on a nearly half-mile long track. (Photo by k1speed.)
Race Car Driving
There may be no go-kart that will satisfy that gearhead friend who bought a sports car before even moving out of his parents' house. If that's the case, the Rusty Wallace Racing Experience has 80 locations in North America and lets you get behind the wheel of a legit race car — they use NASCAR Nationwide and Cup Style race cars at ovals ¾ of a mile and greater. The Super Speedways track costs $399 for three laps on a 1.5 mile track — no instructor riding shotgun, and no rules against passing your friends!
If you'd rather have a supercar over a race car, Xtreme Xperience has more than 30 tracks across the country where you can choose from nine supercars that may cost more than your house, including a Ferrari 488 GTB, Lamborghini Huracan LP610-4S, and a McLaren 570S. (Photo by Rusty Wallace Racing Experience)
Supercar Tours
Want to get off the track and ride with a purpose? How about a week of driving supercars through France, staying at luxury hotels and eating at Michelin-star restaurants? This Ultimate Driving Tour runs each participant $15,000 but if you got it, spend it! Keep in mind, though, the honeymoon better outshine the bachelor party or the missus will give up that title faster than the Porsche 911 you were driving.
When that idea gets shut down, consider instead this half-day Exotics Racing Supercar Tour in a McLaren, Maserati, Ferrari and Lamborghini from Santa Monica to Beverly Hills. It will sound plenty reasonable at $600. (Photo by Exotics Racing)
NASCAR (as a spectator)
Maaaaybe getting behind the wheel on your bachelor party isn't a good idea. In that case, pull up a lawn chair and designate the driving to pros like Kyle Busch, Jimmie Johnson, and Chase Elliott.
Being a NASCAR fan is as binary as it gets. You're either into it — way into it — or see absolutely no appeal. If your whole crew bleeds oil from their veins, pack up your best 'Merica gear and point the Coachman motor-home toward Florida. But if some aren't fans of all those left turns, play the bachelor party card, and toss them in the RV, too. They may love it. Or they may vow to never set foot south of the Mason-Dixon line again.
Make the experience as NASCAR as you can get. Infield RV camping at Daytona International Speedway or Talladega (if you're closer to Alabama) will do. The full weekend will run from a couple hundred up to $1,000 each for premium passes to Cup Series events. That's not cheap, but it's still less than you'd spend on bottle service at one club a few hours south in Miami. And from the looks of y'all, you wouldn't even get in. (Photo by Daytona International Speedway)
Go Off Road
Take an ATV, dirt bike, or dune-buggy tour through forest trails or desert dunes. You can find two-hour tours from $100 per person, or you can make it the focus of an extreme bachelor party. California Motorsport Adventours runs two-day bachelor party trips from San Diego down into Baja, Mexico, with a full six hours of guided off-roading, a casino stop, and a night out on the Mexican town (guided, too, if you'd like) for $500 per person. (Photo by axr.jaco.)
Debauchery
Limo Service
You'll have to get from point A to point B, so you might as well do it in style. Sure, you can try to coordinate who should order Ubers and who is going with whom and when to hit "confirm" and still inevitably show up at least a half hour apart because one cheap ass waited to save $4 off surge pricing. Or you can all pile into one big limo and have the ride be a continuation of the party, not an interruption of it.
Hire a limo or party bus (roomier and better) to bar hop for $100 to $200 per hour. You'll turn heads everywhere you pull up, so make it big enough to fit the bachelorette party you meet along the way. (Photo by trea_reed.)
Strip Clubs
This may be your last chance to touch a naked woman other than your future wife. It's good to be the bachelor at a strip club. Your buddies will likely throw down for your lap dances, and the ladies will cycle through for as long as the bills are being dished out (it's not uncommon to spend $500 to $1,000 per person at places like this). After you've come up for air and given your face a good washing, take the party to the next spot. Believe it or not, the novelty of naked women dancing wears off, and the dynamic of dancers soliciting more tips grows old. Better to move along than to stiff them. (Photo by pittsburghspearmintrhino.)
Private Party Room Rental
Most bars have a back room or downstairs that can be rented for private events. Usually it's a set fee of $50 to $100 per person for unlimited food and drinks for several hours. The best part about the private rooms is you're allowed certain liberties you won't get in the bar, such as strippers. Private dancers will run $100 to $200 per hour, and make sure the boys have plenty of small bills to tip the entertainment and servers. Don't think this is a workaround if strip clubs have been designated off-limits for your bachelor party. You'll have a tough time explaining the woman in a trench coat and heels entering the room that only males have entered so far. (Photo by Le Rouge Lounge.)
Ladies Night
A bachelor party at Ladies Night? Hear me out. Your time with the boys has been great, but you could really use some better ratios. Who cares if the drink specials don't apply to you. If anything, that's less money spent on drinks for ladies you meet.
Want to try next-level Ladies Night? In many Central American countries, drinks for ladies are flat-out free. However, the prize for best Ladies Night goes to Brazil (of course). Clubs in Rio will open early for ladies only with an open bar and occasionally male dancers to get them fired up. After a couple hours, the doors open for men, and they are funnelled in like a herd of gazelle into a den of lionesses. Cover charge for men is steep at $50+, but when in Rio… (Photo courtesy of @bombaytimes.nightlife.)
End Up at the Club
You have endless options for how to begin your bachelor party, but odds are it will end up at a club. If you show up in line, though, with a group of 15 dudes, don't expect to ever get out of that line.
Bottle service is the only way to go for a bachelor party. Your crew will skip the line and head straight to the opposite side of the velvet rope to a large circular booth on which no ever sits as it is designed. Expect to drop a couple G's on Grey Goose, but make sure one situationally responsible friend is in charge of approving any and all bottles that come to the table. Otherwise, waitresses will keep bringing out bottles while duller friends pass out drinks to ladies in the crowd. (Photo by ky.nicholas.)
Wellness
Wellness Spa Day
Who says a bachelor party has to be a debaucherous affair? Maybe your everyday life is crazy enough. If you find yourself routinely asking for some goddamn peace and quiet, consider your wish granted.
Tell the boys you want a spa day. You may get a couple eye rolls, but inside everyone will love it. Book yourselves massages and spa treatments, but be aware that smaller spas may not be able to accommodate everyone in the group. Usually a deep tissue massage will go for around $100. Spend the rest of the day lounging in hot tubs and saunas and cold plunges. Maybe even get everyone on board for a pedicure. "Bros before toes," as they say. (Photo by louisjamesjackson.)
For even more bachelor party ideas, check out our Bachelor Party city guides (with maps) and use our bachelor party planning tool (OK, a spreadsheet but very useful one) to keep track of all people and costs.