72 Hours (12 pm arrival)
Arrive at Miami International Airport and greet your driver from Majestic Limos, the most reliable car service in town. While the fleet ranges from Mercedes Benz S-Class to Cadillac CTSs, we won't judge you if you pile into a stretch limo. You're paying by the hour, so feel free to take a few spins around the block before heading to your hotel, The Miami Beach Edition. It's the only hotel in South Beach that sports views of the ocean from the lobby. The Ian Schrager-designed hotel has become a bachelor-party center on Collins Avenue thanks to sweet digs, party vibes and over-the-top amenities, like a Jean Georges restaurant, a bowling alley and a nightclub. Make a beeline to your Penthouse Bungalow (tricked out with wrap-around terrace, private plunge pool, private elevator and the perfect ocean breeze.)
71 hours (1 pm lunch at Yardbird)
While Miami is pretty different from the rest of Florida, it's still part of the south. Get your "fixins" at Yardbird, which serves up Southern food in a lively setting (FYI: there's a Yardbird in Vegas too). The fried chicken is their specialty, and is so good it makes Chic-Fil-A seem like third-world airport food. The chicken is brined for 27 hours before cooking, so get ready to indulge in some serious finger-licking (your own fingers, presumably.)

69 hours (3 pm Stroll Lincoln Road)
All the action is on pedestrian-friendly Lincoln Road, home to designer shops, international restaurants with outdoor patios, and prime people watching opportunities. You'll get designer sunglasses here because you left yours at home, and buy a case of beer to let everyone know who's in town. Don't forget to take in some sights like the Frank Gehry-designed New World Center—and obviously knock back an espresso at Segafredo, a Miami institution.
67 hours (5 pm sunset cruise)
Booking a yacht is not only baller, it's how you do Miami. Set sail on a private yacht with Y Charter or you can hit up Boatsetter.com, which is basically the Airbnb of boat rentals (i.e., you can negotiate cheaper prices).
63 hours (9 pm dinner at Cleo)
SLS Group, manages this boisterous feel-good party restaurant with elevated Mediterranean fare. It feels like a bit of Morocco in South Beach, only without the camels. You can't go wrong with the lamb tagine, and the the soft doughy bread basket will destroy your pre-wedding resolution to cut back on carbs.
60 hours (midnight drinks at Bodega)
This unassuming storefront with the airstream taco truck inside is a front to a speakeasy-style bar hideaway (entered through a fake bathroom) with open beams, chandeliers and tons of locals partying Miami style. It's that authentic, ego-free Miami experience you've been craving, so celebrate your bachelor party with shots, shots, shots, shot. Expect the DJ to crank out some hip hop, EDM and pop hits to get the crowd moving at the highest level of energy.
48 hours (noon brunch at Blue Collar)
You may wake up with a hangover, but resist the temptation to order room service. Instead, head over to Blue Collar. It's become a Miami staple for brunch: a no-frills '70s-inspired dining room serving serious, egg-centric dishes. You're going to wolf down The Pork and Bans with smokey bacon, Berkshire sausage, white beans, fried eggs and toast. But the Duck Muffin is all the rage, too, so don't hold back here. It's loaded with cured duck breast, smoked gouda, sunny-side up duck eggs and duck jus on a Portuguese muffin. It's the kind of meal Elmer Fudd could only dream of having.
46 hours (2 pm pool party)
SLS Hotel
Speaking of ducks, a huge one anchors this party pool, and gets tons of Instagram love. Clear out the afternoon because you'll be busy getting wet, wild and wasted. Miami's pool party scene is famously epic, and SLS Hotel knows how to throw a proper shindig. Hyde Beach day pool party is a magnet to the who's who of Miami, not to mention the spot every visitor chooses to let loose and mingle. Local models likes to camp out here, so there's plenty of eye candy, and live DJs turn it out.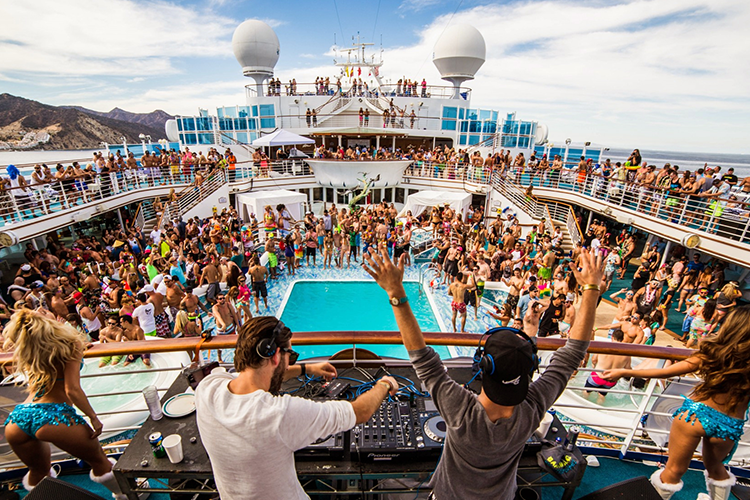 The Freehand Miami
If you want something a little more low-key, get sorted at The Freehand Miami, known for its popular Broken Shaker bar, considered among the best in Miami. The outdoor pool scene is mellower than the one at SLS Hotel, but it has all the essentials: live DJ, good vibes, college chicks, foreign dudes telling you everything that's wrong with America, other foreign dudes telling you why they want to move here and, of course, gallons and gallons of booze.
42 hours (4 pm South Beach)
You can't go to Miami and not hit up the beach. Roll up to South Beach to join the scene: dudes driving slowly down the street in sports cars; other dudes in tank -tops showing off their muscles ("Sun's out, guns out"); gaggles of girls taking selfies and virtually everyone brown-bagging their drinks. 4 pm is the best time to arrive–most of the kids have cleared out, the sun is not as hot (peak time is 2-4 pm) and you'll get to catch a catnap right before sunset. Bring some weed and you're instantly everyone's best friend.
40 hours (8 pm The Forge)
The ultimate Miami steakhouse has been feeding mobsters, celebrities and athletes since the 1930s. The Forge is not your typical steakhouse. It's designed to feel whimsical, with oversized booths, high ceilings and tiered chandeliers. But it serves what are genuinely the best steaks in Miami (and don't forget to add the signature steak sauce, made with 13 secret ingredients). It's "destination dining" (you can't walk here) so you'll take an Uber to 41st street, and you'll need that Uber when you leave. The Forge has the only enomatic wine bar in Miami–a system by which an open bottle of wine can be kept as long as three weeks without going bad. This means more expensive wines can be had by the glass. Did you hear that sound? The clock is tolling wine o'clock.
38 hours 10 pm (Drinks at Sugar)
Before you even get the night started, stop off at Sugar, the best rooftop bar in the Design District, on top of the super swank East Miami hotel. Make a reservation in advance, as there are typical Miami lines and a door girl who likes to swipe left. You have to really want to spend money here. Sugar likes big spenders because the rooftop is an intimate size, meaning they want something out of this relationship too (and you'll see this in the drink prices). This garden oasis with striking views is the perfect launching point for a wild night out.
36 hours (midnight: Nightlife)
Copa Room
The relatively new Miami nightlife spot is all about theatrics. It's meant to feel like Coco Bongo in Cancun, so expect aerialists, dancers, a show full of celebrity  impersonators (Madonna, Pitbull), a crowd that's part of the experience. You'll be dropping $100 at the door, or $125 if you want Club Level access. This gives you unlimited access to a premium open bar all night and includes tips (yes, this is an all-inclusive bar). You'll be spending your entire night here, assuming you can make it through a cheesy (yet hypnotically entertaining) Lady Gaga impersonator.
Liv
Liv "lives" up to its hype. Great sound system, hot people, famous DJs, the works. You'll never see more people wearing designer clothes in one spot. Liv is all about glamming up and looking like a million bucks (once you get past the notorious velvet rope). This is the place to blow a lot of money on bottle service and drink until you drop.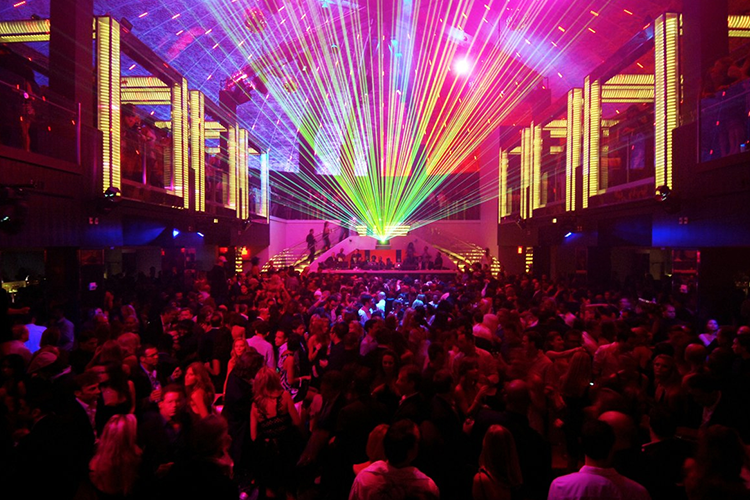 E11even Miami
If you need 24 reasons to party, head straight to E11even in Wynwood. It's a 24-hour ultra club known for its live shows, DJs, crazy crowds of performances and a crazy crowd reminiscent of Girls Gone Wild meets MTV Spring Break. It's also the most tricked-out space in Miami. Think LED video walls, state-of-the-art lighting, bone shaking sound system, a rooftop space, choreographed go-go dancers and, yes, private "booths" for all your stripper needs. They even have bachelor party packages for your convenience.
26 hours (noon Spartan Gym)
No time to sleep in: this is Miami, so you're going to work out. Hotel South Beach recently partnered with Spartan Training to debut the first-of-its-kind Spartan Gym, a 14,000-square-foot indoor space that brings the famed Spartan Race experience to guests. Think: cargo nets, ceiling rope, monkey bars and wall climbs. You can pay $20 to sweat out that hangover. Trust us. You'll be happy you did.
24 hours (2 pm brunch at Juvia)
Juvia on Lincoln Road is the type of place you know investors spent gazillions. The swank rooftop restaurant has the best views around here, period. In terms of food, you can expect an amazing fusion of French, Japanese and Peruvian cuisines, with South Beach flare. Dishes like the King Crab Egg Benedict (with yuzu hollandaise) and bento boxes that include seared tuna or rock shrimp tiradito will lodge themselves in your brain. You'll still be thinking of them weeks after you get back home.
22 hours (4 pm Perez Art Museum/ Then check out Wynwood Arts District)
The art scene in Miami has kicked ass ever since Art Basel put the city on the map. Check out the collection at the Perez, then head downtown to the Wynwood area. You'll be surprised with the level of contemporary and modern art (and Banksy-style graffiti and little art vendors) found here.
19 hours (7 pm STK)
At STK, every table is a grown-up table.  STK is a perennial favorite for bachelor party groups, thanks to the meat-heavy dude food, the party atmosphere, and… did we mention meat-heavy dude food? Because you're downtown already, we're sending you to the new STK at ME Miami hotel. That lobster mac n' cheese and extra-large dry-aged Delmonico has your name all over it.
17 hours (9 pm Catch a concert or game at American Airlines Arena)
Walk on over to American Airlines Arena, home to all your favorite Miami sports teams. Off season, you can fist bump to major rock stars and musicians (like Chance the Rapper), so expect to be entertained one way or another.
14 hours (midnight Playmates Club)
All those fivers in your wallet need to find a new home, and Playmates Club is the perfect place. This popular strip joint in Coral Gables (take an Uber) is after-hours amazingness, so expect some major Miami stripper action.
12 hours  (2 am tacos)
If you're jonesing for some grub, head straight to Coyo Taco, either in Brickell or Wynwood. This late-night taco chain is one of few taco joints open past midnight. Correction: it's one of few good taco joints open past midnight. At 2 am, we know you're not looking for a Michelin-starred meal, but you also don't want to regret anything tomorrow morning. Expect elevated street tacos with all the works: the perfect last call before you catch a few hours of sleep and head to the airport.